How to Transfer Money from Paytm to Bank Account? After the controversial demonetization plan and the subsequent decision of the government to push digital payments, The online payment platform has seen unprecedented growth and increased popularity across the country.
The rising demand in the past few years has led to many companies in this sector.
They include Paytm, Freecharge, Mobikwik, Phone Pe, Airtel Money, Jio Money, and PayPal, to mention just a few.
However, Paytm remains the most used and most popular online payment system and a digital wallet for India by quite a distance.
It claims to have more than 150 million users across India – it's also the most powerful and extensive online payment platform in India.
Like others in the sector, Paytm affords its many users a range of features.
The most obvious is the ability to transfer funds from your wallet into your bank account or even bank-to-bank money transfer via Paytm.
In this article, I'll describe how to transfer funds from Paytm to bank account and bank to bank transfer quickly.
Also Read: Top 10 Online Payment Gateways in India in 2021
How to Transfer Money from Paytm to Bank Account?
1. Link your bank account
In the first place, you must know the technology employed to facilitate the Paytm transfer of money to your bank account.
BHIM UPI enables money transfer services via Paytm – the innovative new technology that allows for money transfer to a bank account directly, using only the mobile phone number.
To avail of this service, All you have to do is connect your banking account(s) to your Paytm account and create a UPI pin.
Launch your Paytm application on your mobile and click "Link your Bank Account" like the picture below.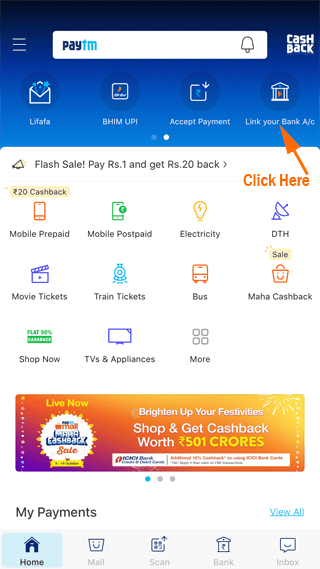 The next page is necessary to input an account's number and IFSC code, IFSC code, and Account Holder's name, as indicated below.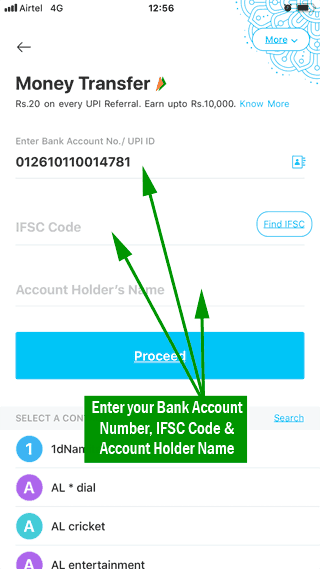 The next step is to confirm your account number and confirm the details of your bank account by sending an OTP to your mobile number.
After your account is verified and your account has been connected successfully, It will then ask you to create a UPI PIN
2. What is a UPI PIN?
It is four digits of a secret passcode that is only available to you to transfer money between your account at a bank and another account.
You must provide your debit card details and linked account to establish your UPI PIN.
After choosing the one you want, it will be kept by The National Payments Corporation of India ( NPCI) and your account information.
These details, as well as your UPI PIN, will be verified (on safe servers) whenever money is debited from your bank account through your Paytm UPI.
3. Transfer money from Paytm to bank account
You need to follow the complete steps (with photos) to transfer the funds from your Paytm balance to your banking account.
1. Open the Paytm app on your phone and then tap the icon for Passbook. You will be able to see your balance in your wallet. Now tap 'Paytm Wallet.'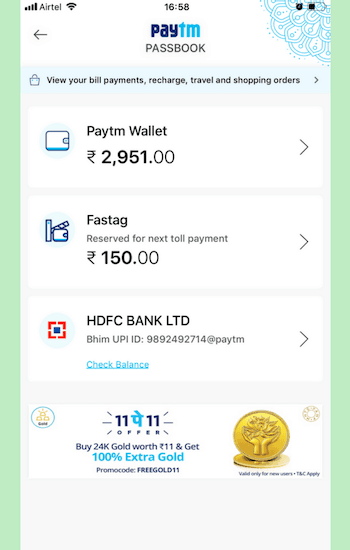 2. Next, you will be presented with the next screen. Click on the link that says 'Send Wallet balance to the bank.'
3. It will show you all linked accounts. Enter the exact sum you wish to withdraw and then choose one of the banks you want to transfer your balance from your wallet.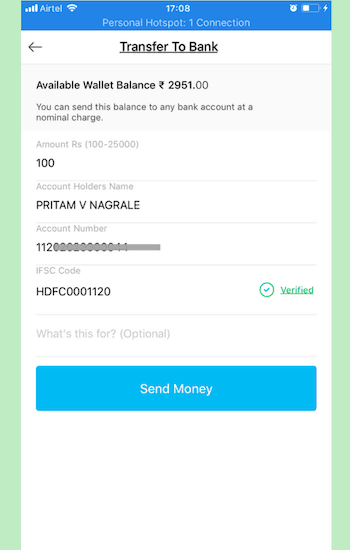 4. It will show the details of the transfer of money using Paytm in bank fees (currently at 3%). Press the 'Proceed' button.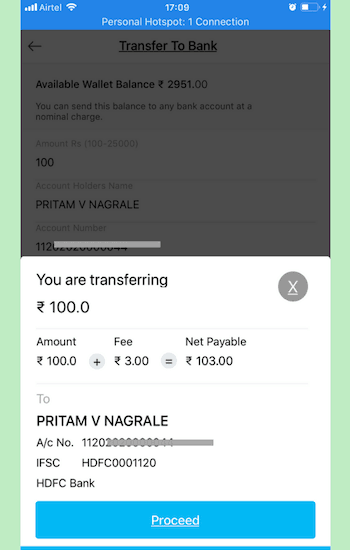 5. Next, it will request users to verify OTP. Then, you will receive OTP to your registered mobile.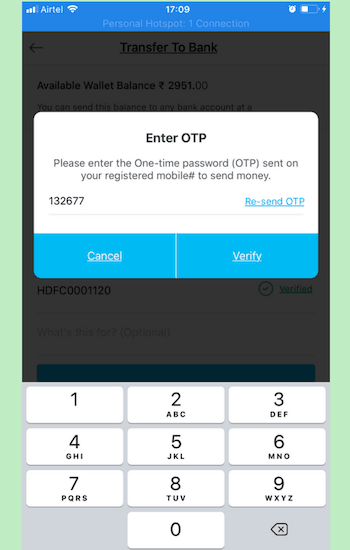 6. After confirming the OTP, you will see the message on your screen, "Request Accepted." When I completed the transaction at 5 pm, for 100 rupees. 100, I received an email via my HDFC bank regarding the transfer.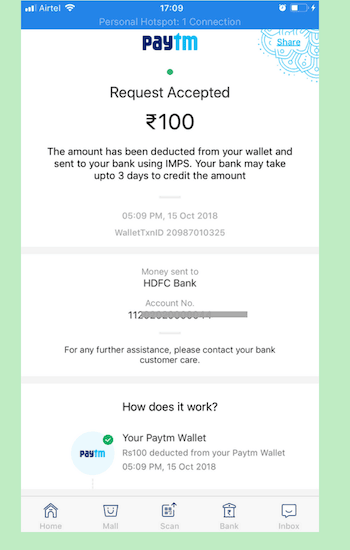 It takes less than two minutes to transfer funds via Paytm into your account at a bank.
Bank to bank transfer on Paytm
If you've already linked your bank account with Paytm, these are the steps you need to follow to make a bank Bank transfer through Paytm.
Launch the Paytm application for your phone.

You'll see a " 

Bank Transfer

 icon at the right. Tap it to start a bank transfer.

Fill in all the necessary details for the account owner, including the account number, IFSC number, and the account name of the holder. You can also transfer money to a bank account using the account holder's mobile number if they have linked his bank account to Paytm.

Input the exact amount you want to transfer (PS You can also send a message along with the payment) and click to initiate.

If the transaction were completed successfully, you'd get the message displayed on-screen "Money Transfer Successful."
4. Points to Remember
Transfers via Paytm from your bank account to another account at a bank are cost-free.

However, 

Paytm has

 the processing fee to transfer funds from Paytm wallet to an account at a bank. The cost is expected to increase to 4percent w.e.f. November 09, 2018.

Transfers to banks are only made via the Paytm app with your mobile number registered with Paytm.

Paytm is a wallet that has been approved by the RBI and utilizes the most up-to-date security procedures to ensure that your funds are safe during the transfer process.

Non-KYC users can load up to INR 10,000 into their Paytm account.

KYC-compliant customers can open credit of INR 1,00,000.00 to their wallets, have no spending limit, and are eligible to establish an account with a Paytm Payments Bank account by sharing their PAN card information.
5. Procedure to Complete KYC
There are two methods to become a KYC-compliant Paytm customer.
You may also make a call to a Paytm representative to come to your home and confirm your documents or go to the closest KYC center with your list of documents.
Documents Needed for KYC
You can have your KYC done in two methods.
Biometric:
It is as simple as visiting an authorized KYC center and providing your thumb impression to verify biometric. In the past, giving your Aadhar Card information was required in this procedure, but following this recent Supreme Court ruling, this might not be an issue anymore.
Non-biometric option:
You can also sign up as an official KYC Paytm account by submitting any five forms listed below.
Pan card

Valid Driving License

Passport

Voter ID Card

NREGA Card
However, customers who opt for this option could wait three days before becoming total KYC customers.
6. Other Benefits of Using Paytm
Like all digital wallets, Paytm is not only about moving your funds from your bank account/wallet to a different bank account or wallet and the reverse.
It offers many other advantages and features.
You can use the cash lying idle in your Paytm account to make regular payments – for your utility bills (water/electricity/internet).

Buy a mobile/DTH recharge, pay your restaurant/movie/shopping/grocery bills and even book your flight/train/bus tickets online.

Ola & Uber rides can be booked via Paytm.

If you wish to buy something, you can use the money in your wallet to purchase several items on their online store.

It is also possible to make payments offline by scanning the QR codes and then inserting the OTP to authorize the payment.
In Conclusion
A Google-BCG Report suggests that the Indian digital payment industry will reach a staggering US 500 billion dollars by 2020, contributing to around 15% of the nation's GDP.
One of the major drivers for this growth is the number of smartphone users in India, which is currently second globally.
Those who are regular users of the top digital payment platforms such as Paytm can result in a win-win of utilizing an efficient, reliable, and secure payment system to fulfill their financial needs without typical difficulties.